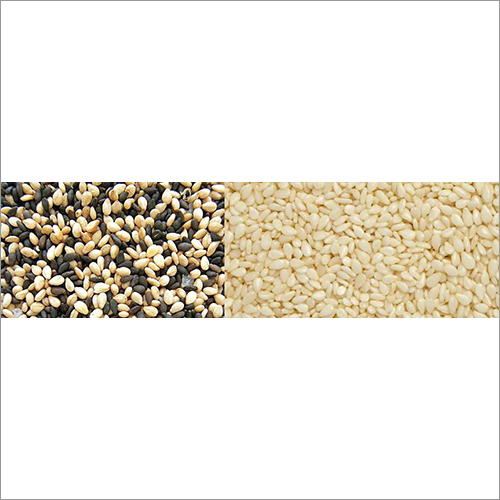 Indian Sesame Seeds
Price And Quantity
Product Specifications
Oil Seeds

Normal Cultivation
Product Description
Indian Sesame Seeds / Sesame Seeds from India

Based in Kanpur, Uttar Pradesh, India we are one of the leading Indian Sesame Seeds Supplier, and Indian Sesame Seeds Exporter. Our quality centric organization is working with diligence in providing a huge gamut of Indian Sesame Seeds. Cleaned and processed with the use of advanced processing machinery, the offered seeds are made acclaimed as prominent oil seed crop. The provided seeds are widely used as an important ingredient in preparation of different kinds of food cuisines. Also, oil extracted from these seeds is used in cosmetics and healthcare applications. Besides, our clients can purchase these Indian Sesame Seeds in different quantities at marginal prices from us.

On average, the world produces approximately 3 million tons of sesame seeds in a year. Nearly 60-65 countries are engaged in producing these seeds. Out of theses, African and Asian countries are the chief producers. The 5 top most countries produces around 70% of sesame seeds. India, Myanmar, Nigeria, Pakistan, Mexico, Egypt, China, Sudan, Uganda, Bangladesh, Tanzania and Thailand, these twelve countries are the ranked producers of the seeds. India, Mexico and China are the vital Sesame exporters, while Japan is the only largest purchaser of sesame seeds in the whole world. China is been using the sesame seeds from some 5 thousand years before, for fabricating ink blocks. In ancient time, Egypt used these seeds to ground and utilize that as grain flour.
Sesame Seeds Division
India produces a huge variation of Sesame seeds that differs in color, say, from white to red to black and those seeds contain oil from 40% to 50%. The while and Black variant of seeds are primarily used for straight consumption as it incorporates in various foods by adding them. The brown Indian variety of Sesame seeds are mostly utilized for extraction of oil and these contain 45% to 50% of oil. The white variant of Indian sesame seeds have unique and desired nutty taste which is the reason that these are mainly used in making sweets, confectioneries and baked products. And, the black variant is used for fries and seasoning. Also, the Indian hulled seeds are used in preparation of snacks.

Nearly 80% of sesame seeds are produce in India during Kharrif Season that starts from June-July and ends in September-October with new crops in the field. The remaining crops then are cultivated in Rabi Season that stay from December to March. These seeds are widely cultivated in the eastern and western parts of the nation. In India, Gujarat, Tamil Nadu, Madhya Pradesh, Rajasthan, West Bengal, Andhra Pradesh and Maharashtra are the producers of sesame seeds.
Factors Influencing Sesame Seed Markets
The Weather of major domestic yielding centers
The southwest monsoon is the most eminent part that decide the area sown, productivity and prices.
Price of other competing oils in India like palm oil, soy oil, sunflower oil, cottonseed oil and mustard oil.
Celebrations and festivals also enhances consumption and the prices of sesame seeds.
Specifications for Sesame Seeds:
Kinds:

White/Black/Brown

Grades:

- Natural / Machine Cleaned
- Mechanical Hulled, Aqua Hulled, Chemical Hulled
- Sun Dried or Auto Dried

Purity:

99/1/; 98/2; 95/5; 99.90; 99.95; 99.97; 99.99

Moisture:

5% max

FFA:

1% max or 2% max

Admixture:

0.01% min

Total plate count:

20,000 cfu/gm max

Yeast & Mould:

5,000 cfu/gm max

Staphylococcus Aureaus:

Absent/gm

E.coli:

Absent/gm

Salmonellae:

Absent/gm

Bhc:

Not Detected

Ddt:

Not Detected

Detection Limit:

0.01ppm

Packing:

- New Jute Bags 75/50/25/15/10 Kgs
- HDPE/PP Bags 50/25/15/10 Kgs
- Multi-ply paper /plastic bags 25/15/10 Kgs
Contact Us
Plot No. 40/42, Sahu Niketan, Naya Chowk, Parade, Kanpur, Uttar Pradesh, 208001, India